I had assumed that the summer break would allow me to blog more; actually, I am doing less blogging, more of something else (I haven't identified what yet - the house is still untidy, my daughter is constantly bored and the dog is, well, shaggy). I suppose I am on the trail of distant cousins and yesterday one of my other cousins struck gold - a third cousin we had been trying to trace made contact with her via a message she left on GenForum. Also been running riot amongst the new Ancestry Rail Worker archives - lots of good stuff there, both for me and a friend whose family history I am researching.
Lovely, but what's that got to do with Temple Meads Station? Read on, it will all knit together quite nicely in a minute.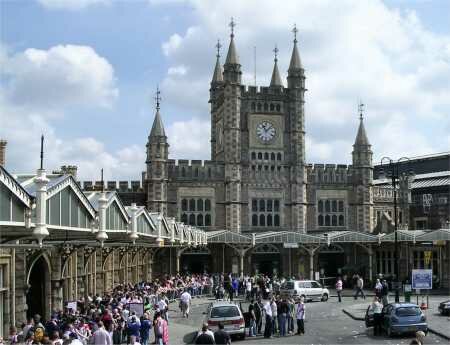 Temple Meads Station has loomed large, quite literally, in my life for a long time, but I had not realised that it, and its surroundings, were of family significance. It is an imposing building, high Gothic Victoriana, set at the end of a long sloping approach road, swarming with black cabs and busy people. I saw a lot of the building because my grandmother lived a stone's throw from it - her view was blocked by other buildings, but every evening we would watch dark clouds of starlings swooping past to roost on its towers. The buses we took into town or out to my house all stopped outside Temple Meads, my parents' bank was opposite it and Gran would often walk me to the sweet shop nearby to buy a Five Boys' chocolate bar. And of course, many journeys began and ended at Temple Meads. Lots and lots of memories of that area for me, never realising that this was home to two sides of my family.
You may have read my post about my great-grandmother Ellen Warren a couple of weeks ago. Ellen's father John Warren moved to Bristol from the Devon town of South Molton. He got a job as a store keeper at Temple Meads, a fact we had found from the Census returns. The new Rail Worker archives give us not only the date he started with Great Western Railways, his wages and his date of retirement, but also his date of birth. John and his family lived near the station, though the street is no longer there. John's son Joseph emigrated to Australia around 1882. He had worked at Temple Meads too and found work in the railway station at Sydney. It is his great-grandson who we have just made contact with. One of John Warren's grandsons, my great-uncle Harold, also worked for the railway. His records show that he was awarded an extra allowance during the war for organising fire watching rotas - take a look at the two photos of Temple Meads and you can see that the station was a minor casualty of the Blitz - the second photo, taken in 1926 shows a spire on the tower, destroyed by the Luftwaffe and not replaced.
It wasn't only the Warrens and Browns who had the Temple Meads connection; my grandmother's mother's family, the Hawkins, also had one. From around the 1880s they lived in Chatterton Square, which as far as I can make out, occupied the area just opposite Temple Meads, between my parents' bank and my grandmother's block of flats. The little cobbled back lane Gran and I walked along to get to Temple Meads was probably all that was left of their square.
Hope you enjoyed this brief visit to Temple Meads Station!